A few years ago I came across a post by M.G. Siegler in early January. He had screenshots of his iPhone and described what apps he was using at that time. One year later, he did the same thing and highlighted what was removed or what added and why.
I liked getting a view into his workflow and his mind of how he has things setup.
To start out 2019, I wanted to do the same. Check out my iPhone, iPad, and Apple Watch setups to start 2019.
iPhone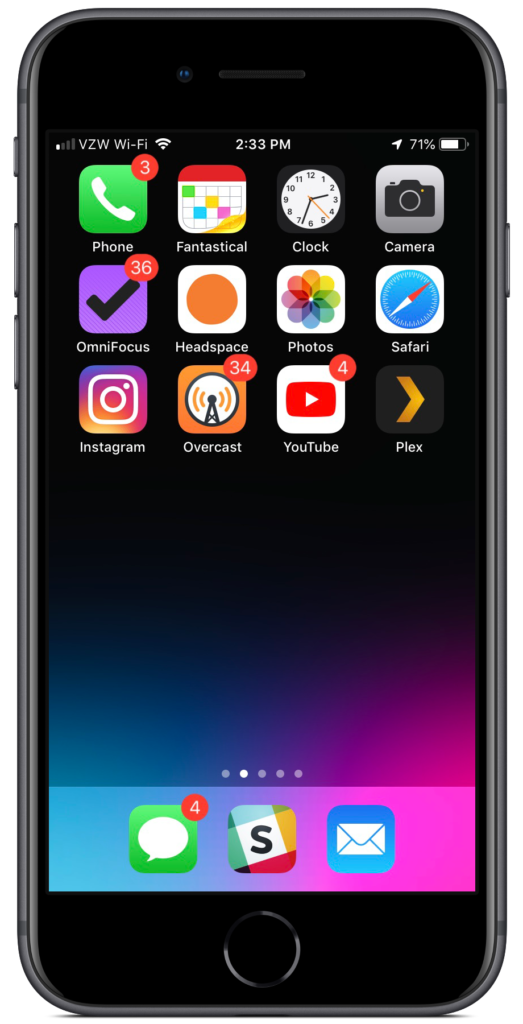 I've been using the iPhone 7 since it came out and I've been extremely happy with it. I don't miss the headphone jack. I've had no issues with it since I've owned it.
I recently had the battery replaced after over 1,000 cycles on it. It's been working as intended ever since.
For a while now, I've stuck to this layout of three rows of apps at the top with three apps in the dock. I've wanted to have my homescreen be what I reach for on a regular basis. The second page typically has some more utilities like Settings and the App Store, but I don't need quick access to those.
Phone: I'm not sure why this is still on the top row. I rarely need it, but when I do, I want it right there. If there is a candidate to be removed from the homescreen, it would be this.
Fantastical: Love it for two reasons: Natural language input and the widget.
Clock: Alarms. That's really it.
Camera: I've tried other apps, I've tried moving this off the homescreen, but I need it too often.
Omnifocus: I've tried many to-do list apps and this has won me over. It can be intimidating at first, but once I got my life documented within it, I can't be without it. It's my passive brain.
Headspace: Easily the app that has impacted me the most in 2018. I've used it every day in 2018 and will continue to do so in 2019.
Photos: Much of the same reasons as Camera.
Safari: The internet.
Instagram: Wish Facebook didn't own this. Love it, should post more, should probably use it less anyways. It's a time suck.
Overcast: My favorite podcast app at the moment. Can't find a better one. Wish it supported video, but not the end of the world.
YouTube: Likely watch more on YouTube than on TV at the moment.
Plex: Catching up on movies and TV, including live TV.
Messages: Most common form of communication.
Slack: Actively part of three or four Slacks at any given time. Love this. Can't live without it.
Mail: Life is still too tied to email. I spend too much time on email. The person that figures out email will be a legend.
Apple Watch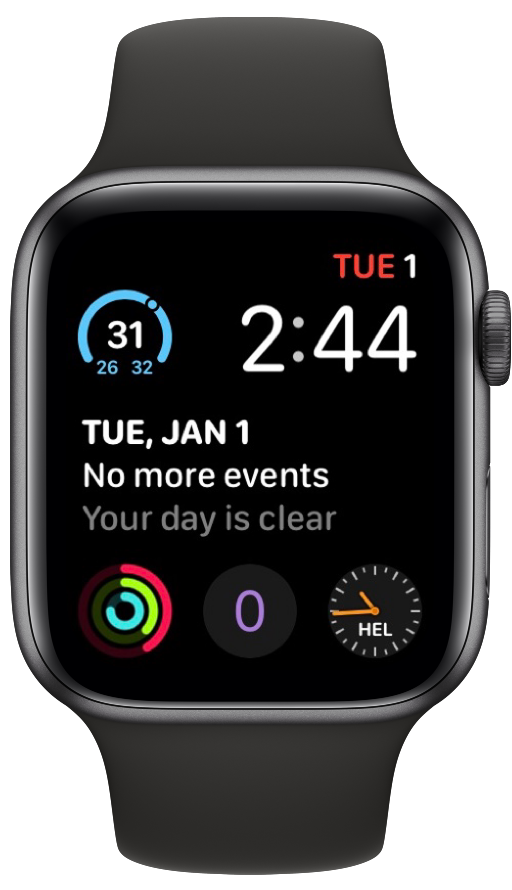 I mainly use the Infograph Modular face with complications in every section. For the complications, I'll go top to bottom and then left to right:
Weather
Calendar – I don't use the Fantastical complication here. I think this one looks better.
Activity
Omnifocus – Set to anything due today.
World Clock: Helsinki – I do work with people based in Finland and need to keep track of what time it is there.
iPad Pro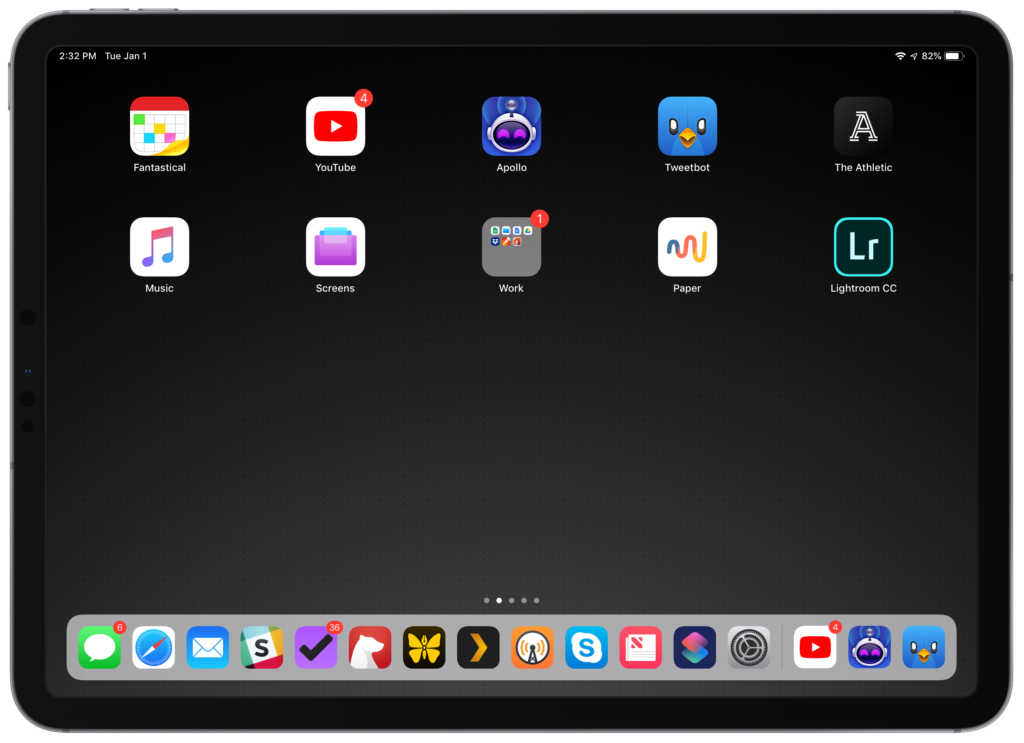 I currently use the 2018 iPad Pro 11 inch. It is often paired with the Smart Keyboard Folio from Apple and the Apple Pencil 2. More on those at a later date. This is my main computer. I also have a Mac Mini for work at home, but this is my daily driver for my personal use.

Fantastical for iPad: Separate app for the iPad. iPad app isn't too special, but it works.
YouTube
Apollo: Best Reddit app for iOS. Also use it on the iPhone. Looking forward to the iPad specific features.
Tweetbot: Best Twitter app for iOS.
The Athletic: I support the business model. Great content, getting better on a regular basis.
Apple Music: Could and should be better. Interface can be fustrating at times. Mainly for background music.
Screens: Great VNC-esque app. Use it to remote in to two Mac Mini's at home.
Work Folder: All work related items. Wish there was a "non-Google" version of Google Docs/Sheets that was widely used.

Google Sheets: It works, but barely.
Files: Please bring external storage support, Apple.
Google Docs: Same as sheets.
Google Drive: Kind of a mess on iOS.
Dropbox: It works.
Linea Sketch: Trying this out. Need a sketchbook style app for some quick prototyping. Do work with people who I rarely, if ever, see face to face. Sometimes a quick drawing can help.
Autodesk SketchBook: Another candidate for the prototyping.

Paper: My current sketchbook app. It's very good, but leaves a bit to be desired. I love how simple it is though.
Lightroom CC: Nice iPad interface for some quick photo edits. Hope the upcoming Photoshop for iPad is a big step forward.
Messages
Safari
Email
Slack
OmniFocus
Bear Writer: My favorite note taking app. Simple enough to get it done, but with a few nice features. Markdown support is a must. Would likely go back to Evernote if it added that feature alone.
Ulysses: Favorite writing app. Not a lot of fluff, allows for focused writing. Markdown support is nice, implementation is a bit strange, but I got used to it.
Plex
Overcast
Skype: International calls and for family calls with the little guy.
Apple News: Wish the gestures were a bit better. Thankfully, you can hide the sidebar now.
Shortcuts: Run at least two or three of these a day, finding more and more use for them all the time.
Settings: Need this on an iPad more often than on iOS.
Recent Apps: I do keep this setting on mainly for multitasking use.
We'll see how these both evolve in the next year. I'm intending on keeping the same layout so things would be a one-to-one swap.